Extended MSc International Business with Human Resource Management with Advanced Practice
Home ›
MSc ›
Extended MSc International Business with Human Resource Management with Advanced Practice
Read more about this program on the school's website
Program Description
The Extended MSc International Business with Human Resource Management with Advanced Practice integrates the Graduate Certificate programme to allow entry for students with equivalent to a standard degree (third class, pass or ordinary) onto the MSc International Business with Human Resource Management (HRM) with Advanced Practice which incorporates a compulsory work internship or an applied consulting project.
The Graduate Certificate stage consists of three modules, Research Methods for Postgraduate Studies, Enterprise Development and Academic essentials. It is a preparatory course that will provide you with a solid foundation in the skills needed for progression on to the MSc International Business with HRM stage. Students, who successfully complete the Graduate Certificate stage with a minimum overall average mark of 50%, will be in a position to progress directly to the MSc International Business with HRM stage.
The MSc International Business with Human Resource Management consists of eight taught modules, Global Business in Context, International Finance, International Marketing, Managing and Leading People in International Organisations, International HRM, Global Strategy, Applied Research Methods, and International Entrepreneurship, and either a Dissertation or an Applied Research Project.
Successful completion of the eight taught modules will allow you to acquire mastery of both the macro and micro contexts of international business with a keener focus on a human resource management context. More specifically, you would enhance your ability to acquire, develop, and integrate international business theory whilst developing the skills to apply such theories in terms of international business practice and a greater appreciation of human resource management matters in international business.
Your final piece of work, either the Dissertation or Research Project, offers you the opportunity to investigate an area of human resource management relevant to international business. The Master's Dissertation option provides the opportunity to conceive, design and satisfactorily implement a substantial research project within the broad subject area of international business and HRM. The Applied Research Project option enables students to apply the theoretical concepts encountered on the MSc International Business with HRM programme and the practical experience gained from the Advanced Practice stage to a contemporary management issue.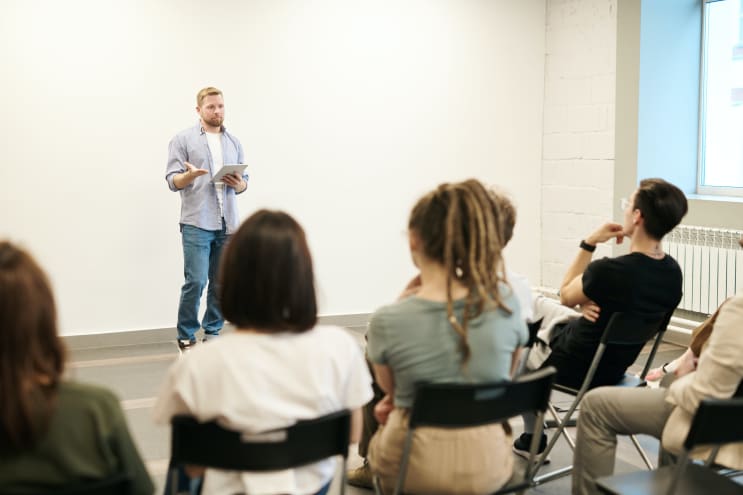 Advanced Practice
The compulsory Advanced Practice element of this programme takes place after you have studied the eight taught modules at the Master's stage and will enable you to undertake a 15-week long internship, or applied consulting project, working with a real organisation on a live business problem. This gives you the opportunity to gain experience of the workplace environment and/or practical experience of the "real world" issues faced by those currently engaged in international business.
The Advance Practice stage module provides an excellent way to put your learning into practice and hence, enhance your employability. It also provides you with an enhanced knowledge of the workplace which will facilitate the completion of your Dissertation or the Applied Research Project. Please note if you undertake an internship this may be paid or unpaid.
Teaching methods
You will be taught using a wide variety of teaching methods across the modules including lectures and seminars. Typically, you will have 12-14 hours of contact time per week. In addition to your time in class, you will also be expected to engage in approximately 38 hours of self-study time per week.
You will have access to Blackboard, our online learning environment, where you can access module resources and reading lists that will assist your preparation for classes and self-study.
Assessment
Each module is assessed by coursework only (may include class tests).
Careers and progression
Student and employer needs are reflected in the development of this programme and evidenced in the career destinations and further development of our graduates. The nature of the provision is such that it equips individuals for employment in a wide range of international roles within the public and private sectors and a number of graduates are successful in gaining promotion in their chosen fields or alter their career paths on successful completion of the MSc International Business with HRM. Students taking this course would have particular insight on managing and leading teams as well as applying HRM theories and concepts in an international context.
A number of graduates from the MSc International Business programme have progressed to undertake doctoral studies.
Entry requirements
Applicants must hold at least:
A third class or pass in a bachelors degree in any discipline, or equivalent; or
A pass in a non-honours degree with any classification in any discipline, or equivalent; or
3-year Diploma (DAZhuan) or equivalent (China only)
English language requirements
Applicants must satisfy our general entry requirements as well as meeting specific requirements.
You will need to provide evidence of competence in written and spoken English (GCSE grade 4 – previously grade C – or equivalent).
The general entry requirements are any of the following:
IELTS 6.0 with no band score less than 5.5, or equivalent
HKDSE English Language – Grade 4 overall with no less than 3 in any of the 4 sub-skills
Indian Standard XII English – Minimum of 70% (in Central Board of Secondary Education (CBSE) or Indian Certificate in Secondary Education (ICSE) only)
WAEC – C6
If you do not have the required IELTS, you may be eligible to study on our Pre-Sessional programmes.
If you have IELTS 5.5, with a maximum one score of 5.0, you may be eligible to study on our Pre-Sessional Standard programme.
If you have IELTS 5.0, with a maximum one score of 4.5, you may be eligible to study on our Pre-Sessional Plus programme.
Tuition fees for 2020/21
UK/EU: £9,500
This course is eligible for postgraduate government funding.
International students:
London: £22,000
Birmingham: £20,250
Please note that the fees outlined are for your tuition only and do not include the cost of any course books that you may choose to purchase, stationery, accommodation etc. As an Ulster University London and Birmingham branch campus student you will also have access to our on-campus libraries and a range of e-learning resources.
The modules you will study may require you to purchase additional course textbooks and you should be prepared to buy some additional texts, we recommend allowing an additional £300 for the duration of your course.
What does my tuition pay for?
Your teaching in class – this includes seminars, lectures and tutorials
Access to facilities including computers, Wi-Fi, printers, lockers, multi-faith rooms, quiet study space and social areas.
Our library service – both on-campus and an extensive online catalogue of resources
Careers and Employability Service which provides help with CVs, applications and interview preparation through workshops, drop-ins and 1-2-1 appointments
The ACE Team (Academic Community of Excellence) who are here to support you with your studies and assignments
Students Activities Association (SAA) – who organise events on campus, discounted sightseeing trips and help students create and run societies
Last updated Aug 2020
About the School

Ulster is a university with a national and international reputation for excellence, innovation and regional engagement. We make a major contribution to the economic, social and cultural development of ... Read More
Ulster is a university with a national and international reputation for excellence, innovation and regional engagement. We make a major contribution to the economic, social and cultural development of Northern Ireland and play a key role in attracting inward investment. Our core business activities are teaching and learning, widening access to education, research and innovation and technology and knowledge transfer.
Read less