Executive Master of Business Administration
Home ›
Master ›
Executive Master of Business Administration
Program Description
The UNO Executive Master of Business Administration Degree

UNO's Executive MBA program offers a Master of Business Administration degree accredited by the Southern Association of Colleges and Schools (SACS) and the American Assembly of Collegiate Schools of Business (AACSB).

The goal of the University of New Orleans Executive Master of Business Administration (EMBA) program is to provide experienced managers, successful entrepreneurs, and professionals with the highest quality masters-level business education.



Quality and Efficiency

The UNO EMBA is structured to provide the highest quality program while avoiding significant interruption of daily work responsibilities. We do everything possible to make the program convenient for, responsive to, and supportive of students while maintaining a focus on quality. By attending to the administrative details, we free more time for our students to concentrate on what's important - their education.


Is an MBA the Right Degree?

First, you must decide if an MBA is the right degree. Only a little more than one million people in the entire world have MBA's. Even though the need for an MBA is obvious, thousands of students would not be spending the time and money to obtain the degree unless it paid off. It most clearly does. Those with master's degrees earn more money, advance more quickly and spend less time finding new jobs. These factors combine to significantly increase lifetime earnings. The primary objectives of an MBA are for students to develop and integrate:
analytical skills for decision making that incorporate global, ethical and culturally diverse dimensions
skills in assessing organizational performance and developing approaches for improvement
leadership skills, and
interpersonal skills that contribute to teamwork.



MBA vs. EMBA

The EMBA is designed to provide maximum convenience and minimum aggravation for those managers and professionals who do not have the time to deal with difficult schedules and extended breaks. The EMBA staff takes care of administrative details so that the students have more time to prepare for classes. The classes are conveniently scheduled on alternating weeks, primarily all day Friday and Saturday, and are located on UNO's Lakefront Campus.

Additionally, students are formed into small workgroups, which remain together for the entire program. The UNO EMBA program is designed around these small workgroups. The small-group format is important to students since the groups provide important social and academic support for their members. The groups are also important fail-safe devices for busy managers whose workloads fluctuate widely. Group members will constantly 'trade-off' their strengths and weaknesses. Because of the interdependence on team members, students are encouraged to be certain of their commitment to earning an MBA through this intensive seventeen-month program.


EMBA Program Curriculum

The University of New Orleans has the largest business school in Louisiana, as well as one of the fastest growing executive education programs in the country. Our Executive MBA program delivers a high-quality, high-value education.

Class Schedules In New Orleans classes primarily meet all day Friday and Saturday of every other week. Tentative calendars for the U.S. and Jamaica classes may be viewed online. Classes in Jamaica meet twelve to sixteen hours per weekend.


Curriculum Summary
Small Group Management
Organizational Behavior, Leadership, and Communications
Business Communications
Financial and Managerial Accounting
Managerial Economics
Quantitative Methods
Survey of Decision Making Tools
Marketing Management
Operations Management/Management Information Systems
Financial Management
Applications of Business Analysis
International Business
Last updated Jan 2018
About the School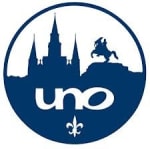 The University of New Orleans is an urban university located near the banks of Lake Pontchartrain in Louisiana. The College begins a new era this year under the leadership of Dean John C. Gardner. Wit ... Read More
The University of New Orleans is an urban university located near the banks of Lake Pontchartrain in Louisiana. The College begins a new era this year under the leadership of Dean John C. Gardner. With a Fall 2003 enrollment of almost 4,600 undergraduate and graduate students and a budget of over $9 million, UNO has one of the largest colleges of business in the Gulf Coast region. Business students make up over one-fourth of the UNO student body (17,360)! The College, fully accredited by AACSB International, provides specialized training in a variety of business fields at both the undergraduate and graduate level as well as a broad foundation in the liberal arts and sciences. Many resources are available to support and assist prospective students, current students, alumni, faculty, and staff. The UNO Business Alumni Council is an active group supporting the continued development of the College. The College of Business also provides various community services through its support of research and business centers.
Read less