Executive Master in Marketing & Sales
Home ›
Master ›
Executive Master in Marketing & Sales
Read more about this program on the school's website
Program Description
Four of our Masters are officially recognized among the best at the international level by Eduniversal, among which is the Marketing area.
Top 200 - Regional rankings within the 9 geographical areas
Ranked # 60 in Marketing, Western Europe

The Rome Business School 's Executive Master in Marketing & Sales offers excellent education, career services, networking and many other benefits for professional and personal development. The course of study was designed to provide participants with advanced professional skills, which allow them to strengthen their knowledge and develop their career paths at a managerial or entrepreneurial level. From a methodological point of view, the practical and know-how-oriented approach allows you to acquire marketing and sales skills that can be immediately used in your operating environment.

Why choose us
International bootcamp in Barcelona, ​​New York or Rome
Are you looking for an international experience to gain a completely new and practical perspective on the business world? Rome Business School offers you the chance to do just that: refine your skills and enrich your knowledge on entrepreneurship, innovation and other key topics in the management world by taking part in our international programs in Rome, Barcelona and New York , where you can also expand your professional network. Bootcamps have an additional cost.
Soft Skills development program
The bases of a solid and successful career are undoubtedly the Soft Skills, skills that find practical uses and success in every work environment and business area. Rome Business School can facilitate your growth in the career path, thanks to our Soft Skills program, which will allow you to acquire competence and deepen the ways of developing these personal skills, facilitating your personal and professional growth.
The Rome Business School has established solid partnerships with several world-renowned leading companies, such as Enel, Fendi, Bulgari, Eataly, IBM Italy, Land Rover and many others. To ensure that our students can build a solid professional network, we constantly organize meetings, visits, events and lessons for guests with representatives of elite corporate ecosystems, encouraging interaction between leading professionals and students, and facilitating the process of learning.
Our qualified and professional Career Services team offers our students a personalized career path, specially designed to shape their professional profile in order to train competitive figures in the labor market. Workshops focused on the hottest topics of job search and career networks, individual counseling meetings, our exclusive " Rome Business School Talent Focus" event and other advantages are available to ensure the best start, or a great boost , of your career!
Structure
The Executive formula of the Master in Marketing & Sales of Rome Business School is structured to provide the student with a 360-degree preparation on the Marketing sector and on fundamental aspects of collateral areas, initially focusing on a general overview of the broad-spectrum managerial reality , to then analyze all the topics and specific aspects of the Marketing sector. A further study will be dedicated to the analysis and exploration of trends and best practices in the fields of innovation and leadership, and how they can be effectively applied to the Marketing and Sales industry.
6 months of teaching
6 months dedicated to the Capstone project
1 week dedicated to the Bootcamp in Barcelona or Rome
Soft Skills program
Seminars and events
Mode of Attendance - Saturday, from 10am to 5pm.
Benefits
International Study tour: Bootcamp in Barcelona or New York
Soft Skills Development Program
Research Methods for Business Workshop
Support for accommodation with dedicated providers
International Student ID Card - ISIC
Career Services
Contents
The first part of Rome Business School 's Master in Marketing & Sales offers you a complete preparation for the Marketing sector, and an overview of the crucial aspects of other related fields, initially giving an overview of the wider world of management.
Develops the skills required to address and improve new needs in different areas of management and management. Learn how the implementation of new market and consumer oriented operational management systems takes place, analyzing all the subjects and specific aspects of Marketing and Sales.
Innovative and Sustainable Leadership
Discover the best practices in innovation and leadership and how they can be effectively applied to the marketing and sales sector.
Capstone Project: Marketing & Sales Plan
A group project that aims to develop a marketing and sales plan for an existing or fictitious company in the sector. All teams are guided by the initial phase of the project.
Professors
The courses of the Rome Business School Master in Marketing & Sales Executive are taught by highly selected teachers of international standing, coming from a variety of operational and professional contexts, from advertising to commercial, from entrepreneurship to digital; the training approach is practice-oriented, in order to transmit skills that are really useful for the student's professional development.
Career Services
With our help, you can create your career strategy through a journey of self-reflection, exploration and results. This program is designed to help you find internships or positions in line with your ambitions and expectations. In particular, the school offers the following services to registered students:
Individual professional consultancy meeting
Official Rome Business School Career Portal
Professional workshops
Webinar for entrepreneurs
Talent Focus by Rome Business School
Placement
At the end of the Master, 96% of students obtained an internship in internationally renowned companies. Some of our professional partners:

International bootcamps
Refine your entrepreneurial skills and put them to the test with the ultimate challenge: the exclusive Rome Business School Bootcamps in Barcelona and New York, organized in partnership with EAE Business School and with Pace University. Two splendid cities at the forefront of innovation and among the most productive start-up ecosystems. An advanced program designed to come face to face with realistic business scenarios to solve and provide you with a practical learning method and skills development. All with the professional support of tutors from excellent companies!
Admission process
Rome Business School works hard to maintain the highest quality standards in the programs offered. This is why, in order to guarantee the suitability of the candidates, all aspiring students must undergo and successfully pass a selection procedure structured as follows:

The admission process has the purpose of verifying the suitability of the candidate to attend the Master. The candidate's academic history, previous experience on the topics covered in the Master's program and personal motivation will be evaluated. Once sent, the application will be evaluated by the Rome Business School academic committee. In order to guarantee the suitability of the candidate, it is important that this hand over all the required documentation.
Scholarships and payment
n based on personal profile, experience and proven motivation, the candidate will be able to obtain the assignment of a scholarship with partial coverage (up to 30%) of the participation fee. Eligibility for any scholarship will be assessed by the Rome Business School academic committee during the examination of the application.
The payment of the participation fee of 6,800 Euros can be made in the following ways:
by installments
Unique solution (this option guarantees a 10% discount on the total amount)
Choose your future now!
If you are looking for high quality advanced training, skills development opportunities, new ways to expand your professional network and get in touch with elite professionals, we have exactly the Master for you. From now on it all depends on you! Your determination and your willingness to learn and experiment with new ways of thinking are all you need to make the most of one of our Masters and start walking the road to success in your career.
Last updated Aug 2020
About the School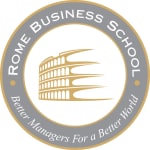 The Rome Business School is a Rome, Italy, based Institute of excellence devoted to managerial training and research, which operates internationally, with alumni hailing from more than 140 countries w ... Read More
The Rome Business School is a Rome, Italy, based Institute of excellence devoted to managerial training and research, which operates internationally, with alumni hailing from more than 140 countries worldwide.
Read less