Executive Master in Digital Innovation and Entrepreneurial Leadership
Home ›
Master ›
Executive Master in Digital Innovation and Entrepreneurial Leadership
Read more about this program on the school's website
Program Description
Are you ready to develop your entrepreneurial leadership skills?
In the digital era, we are witnessing a democratisation of competition and a constant need for change. With infinitely scalable computing, talent can be acquired on-demand, manufacturing and distribution are only a click away.
Companies — be it a corporation or a start-up — have to constantly ask themselves, "What business am I in?" and "How can we create on-demand high-quality experiences?". To identify, create and deploy opportunities that have an impact and to reinvent business, we need entrepreneurs and that respective mindset at any level in any kind of organization.
ESCP Europe's Executive Master in Digital Innovation and Entrepreneurial Leadership (EMDIEL) sets out to unleash this awareness and to develop the necessary skills for conceptualization and entrepreneurial leadership. The capability to shape and steer a course is equally important to a corporate intrapreneur, as it is to entrepreneurs seeking to launch or grow businesses, to family business successors, internal venture project managers or specialists such as engineers or professionals seeking to re-orient their careers.
To achieve these goals, we created a part-time global Executive Master Programme, based in Berlin. The programme takes 15 months to complete, followed by a period of three months to write the thesis. The programme is divided into five modules of one to two weeks, including sessions at three European ESCP Europe locations and two global immersions in China and the USA. At the end of the programme, you will receive the degree "Master in Digital Innovation and Entrepreneurial Leadership".
In each module, state-of-the-art Business and Entrepreneurial Open Learning is iterated by leading academics and top professionals acting in teams (Tandem Learning & Teaching). Real-life hands-on projects, events and the management of a community around your project combine conceptual and experiential learning through discovery and practical application of the digital innovation and entrepreneurial leadership toolbox.
You can see more about our current cohort and stay up to date with events and news through our Facebook page.
Take-Home Values of the Programme
An opportunity-centred mindset for capitalizing on and executing ideas.
Tangible advancement on a venture through discovery and concrete application of the innovation and entrepreneurship toolbox (conceptual and experiential learning).
Mastery of key entrepreneurial methods; e.g. lean startup; design thinking; effectuation; bricolage and bootstrapping; pivoting and disruption.
Social media savvy & mastery of the digital toolbox
Experience a maximum diversity of tutors, mentors, and participants, from arts, design, science and business worlds (tandem learning & teaching).
Experience and become part of the Jean-Baptiste Say Institute: an innovative and experiential pedagogy, a programme of incubation (Blue Factory) and a strong foothold in the local entrepreneurial ecosystems.
A solid network between leading corporations and the startup scene in Germany, Europe and beyond. Easy access to media and financing partners for deal flow acceleration.
A personal network for life: coaching, mentoring, business opportunities, access to events, homecomings.
Radical personal and leadership growth
Target Group
Our Executive Master Programme welcomes participants from diverse educational backgrounds with a minimum of three years of professional experience.
This could be:
Intrapreneurs
Internal venture project managers and talents within a company having an interest in / responsibility for innovation and new business creation.
Specialists
Specialists seeking to re-orientate their career — engineers, scientists, physicians, professionals, designers, media specialists.
Entrepreneurs
Entrepreneurs, family business successors and venture project managers seeking to launch or grow businesses.
We foster a diversity of backgrounds in our programmes. It allows the participants to learn from each other, build a lifelong network and understand the power of open innovation and knowledge, coconstruction in teams and organizations.
Curriculum
Experience an intense immersion into the digital and entrepreneurship universe
Five modules at three ESCP locations and two global immersions starting in April will lead you through the sometimes unconventional digital innovation and entrepreneurial tools and methods to open your entrepreneurial mind and shape your leadership capabilities.
Module 01
Essentials and Advances in Digital Innovation & Entrepreneurship
Courses:
Introduction to digital entrepreneurship and innovation
Technological fundamentals of digital innovation
Entry forms to innovation and entrepreneurship
Additional Features:
Meet your mentor
Project incubation in ESCP Europe's Blue Factory
Pitch-training and event
Introduction to Coding and Design
Berlin: Rescheduled to 5th October 2020 due to the current outbreak of Coronavirus
Module 02
International Entrepreneurship
Courses:
Business model validation & beta testing in China
International entrepreneurship strategies – doing business in China
Additional Features:
Meet Shanghai-based start-ups and successful entrepreneurs
Introduction to Chinese business culture
Shanghai: TBC
Module 03
Digital Transformation: Prototyping, Business Modelling, Venture Growth
Courses:
Prototyping for Entrepreneurs
Business Models for the digital age
Scale-up of Entrepreneurial Ventures
Driving and managing growth
Additional Features:
Introduction to coding and design
Incubation in the Paris Blue Factory infrastructure
Active immersion in and contribution to the ESCP Europe Entrepreneurship Festival
• Become part of ESCP Europe's entrepreneurs' network in Paris
Paris/London: TBC
Module 04
The World's Most Powerful Venture Community
Courses:
Entrepreneurial ecosystems
Entrepreneurial finance & execution
Additional Features:
Silicon Valley @ work: catch a glance of the world's most powerful venture community
Visit of innovation leading companies
Silicon Valley: TBC
Module 05
Looking Back and Ahead
Courses:
Advancing Entrepreneurial Leadership
Trends and Challenges in digital innovation
Research Methods
Additional Features:
Project incubation in ESCP Europe's Blue Factory
Final project pitch
Berlin: 14.06.21 – 25.06.21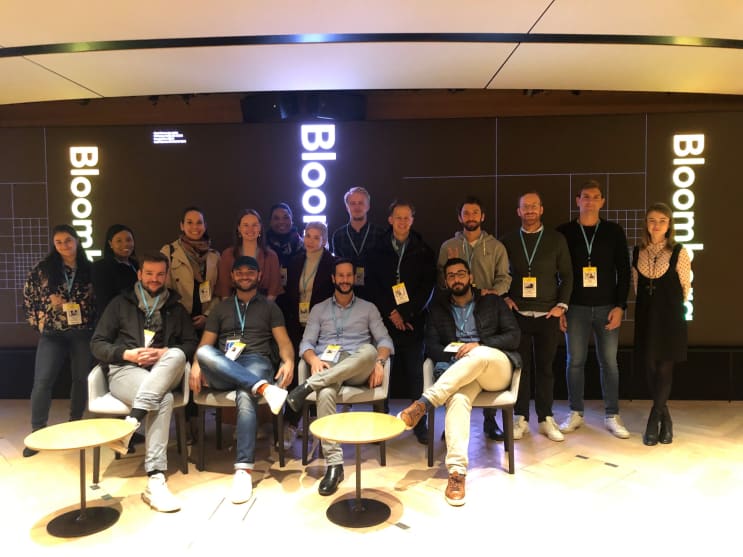 Admission Requirements & Application
Ongoing application process. Due to the limited number of places, please, get in touch with the Programme Coordinator (Olga Perfilyeva, operfilyeva@escp.eu) to receive information about the availability of the places.
The Executive Master Programme welcomes participants from diverse educational backgrounds. Your profile should fit the following criteria:
Graduate degree in any discipline (Bachelor or higher; minimum of 210 ECTS)
Business administration knowledge recommended
at least 3 years of professional work experience
Proficiency in English
Admission Procedure
Our admission procedure has the following steps
assessment call/meeting with Programme Coordinator
submission of online application form
admission interview with Programme Directors, Faculty
confirmation of enrolment and payment of tuition fees
The following documents must be submitted in the online application form.
A one-page letter of motivation including, a short description of a project idea or question you would like to work on or develop during the master programme
A recent CV
Copies of all diplomas and degree awards (Bachelor, Master, etc.) with full grade transcripts
Documents confirming proficiency in the English language (in case the Bachelor or Master degree was studied in English we consider candidate proficient in English)
Admission Calendar
The start of the programme is annually in April.
Fees & Scholarships
Tuition Fees
Tuition fees are set at €29,800 for the 2020/2021 academic year. This includes breaks and evening activities. Travel and accommodation expenses are the participant's responsibility.
Scholarships
We provide scholarships for e.g. women, entrepreneurs or NGO/Non-for-profit Organisations taking part in the programme and committing time, know-how and resources to build an active and inspiring community around our Master. Our partner Brain Capital offers the "Study now, pay later" option.
Last updated Apr 2020
About the School
As a state-recognised university, ESCP counts among the most prestigious and leading business schools in Germany. ESCP regularly occupy top spots in both national and international rankings (#1 Europe ... Read More
As a state-recognised university, ESCP counts among the most prestigious and leading business schools in Germany. ESCP regularly occupy top spots in both national and international rankings (#1 European business school in Germany, #1 Master in Management, #1 Executive MBA and #1 in Custom Executive Education in Germany). In Berlin, ESCP has particular expertise in 3 academic Key areas, namely sustainability, entrepreneurship and digitalization with a foundation of international management. Companies such as Accenture, Bain, Bayer, Coca-Cola, and P&G closely collaborate with us and stay in continuous contact due to the quality of our faculty, their research as well as the top quality of our students and alumni.
Read less