Erasmus Mundus Master in Pervasive Computing & Communications for Sustainable Development
Home ›
Master ›
Erasmus Mundus Master in Pervasive Computing & Communications for Sustainable Development
Program Description
The Erasmus Mundus Joint Master Degree (EMJMD) in Pervasive Computing and Communications for Sustainable Development (PERCCOM) aims at combining advanced Information and Communication Technologies (ICT) with environmental awareness to enable world-class education and unique competencies for ICT professionals who can build cleaner, greener, more resource, and energy-efficient cyber-physical systems.
Context
The future world challenges include the impact of technological development and new emerging technologies on the environment and require an enormous effort to efficiently address air, water, food and energy challenges.
The Smart 2020 report written by the international climate group recommends to intensively deploy Information and Communication Technologies (ICT) both for enhancing the monitoring of environment and human activities (industry, building, transport, etc) and for distributed smart ICT systems for enabling to mitigate the pollution, the waste, food quality and supply, energy constraints, etc.
The higher education sector has both a responsibility and a response to those challenges by educating ICT professionals with high expertise in networking, computing, and programming, capable to design, develop, deploy and maintain both communication architectures and pervasive computing systems for sustainable development. Moreover, the traditional methodologies in distributed system engineering have to be adapted and reviewed for minimizing the ICT footprint on the environment in terms of carbon emission, radio wave propagation, waste, technological pollution, energy efficiency, resource reuse, etc.
The networked system engineering has to be globally rethought in the context of a new business paradigm as the circular economy. The major effort of Engineering focuses then on resource efficiency.
Objectives
The objectives of PERCCOM Master include:
To address educational challenges and attract students according to the new market demand expressed by OECD in the reports on "OECD Information Technology Outlook 2010" and "The 2011 Gartner Scenario: the Current States and Future Directions of the IT Industry", by the European Commission adopted in 2009 a recommendation saying the ICT sector should lead the transition to an energy-efficient and low-carbon economy, and by companies developing new green ICT projects (Cf 2009 Gartner report: The Impact of Recession on Green IT: Survey Results).
To synergize the strengths, competence and diverse aspects of education in sustainable networks, software and services, pervasive computing systems and communications and develop a common platform of competence within the guidelines of the Bologna process,
To provide future Masters students with competences, skills, and knowledge in computer communications, wireless networking, mobile technologies, software engineering, pervasive and distributed systems, and to make them aware of the impact that ICT makes on the environment and efficient use of resources.
To educate students in the direction of the "green digital charter" committing the European Cities to reduce emissions through Information and Communications Technologies. It was launched on 27 November 2009 at the EUROCITIES annual conference. Currently, about 20 European Cities have signed the charter. Today 50% of the population is living in cities and in a decade or two, it is estimated to grow to 80%. This requires efficient use of resources in city environments and a vital component in this development is ICT. Students will be educated in how to apply ICT in this context, within the parameters of environmental opportunities and constraints. Moreover, the students will be capable to design network architectures and distributed systems that reduce energy consumption, in following a circular economy approach for optimizing the resource reuse.
To propose the new International Master degree with no currently available match at international level filling the gap between ICT skills and environmental considerations.
Program Organization
The Master Program covers four semesters. The students move as a single cohort. They start their first semester at the University of Lorraine (France). The second semester, the cohort is at Lappeenranta University of Technology (Finland), and the third one at Luleå University of Technology (Sweden). The last semester is dedicated to a thesis component and can be undertaken during the training period either in a private company or in one of the laboratories/departments of the different Universities involved in the Master Program. The associated partners give lectures in seminars. One seminar is located at St Petersburg University of IT Mechanics and Optics (Russia). The consortium will form a support network to enable efficient interactions between students and partners. Regular events will be held to advance the program objectives.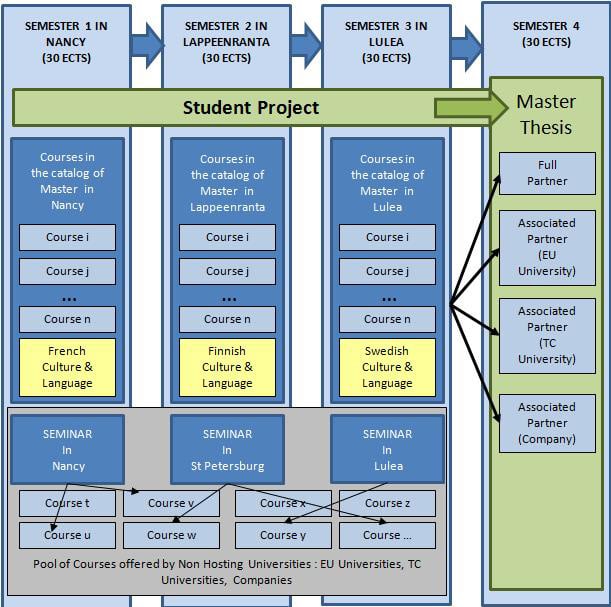 Employment & Ph.D.
List of jobs
Executive position in companies: The targeted jobs are ICT professionals and engineers in ICT companies (Cisco, Ericsson, Nokia, Microsoft, Orange,…) or in companies having their own ICT staff. The main economic sectors concerned are transportation, logistics, energy delivery networks, construction, and manufacturing industry. Thanks to their broad scope and European view these students are well prepared to manage a department in companies, as:
ICT manager. Their training in teamwork enables these students to become project leader of a multinational and multicultural project team.
R&D-department, working as a project leader on applied research.
Other positions: The broad view on ICT, the capability in making judgments, integrating environmental, cultural, social, ethical insights make them very well suited for the following functions:
Consultancy in a wide spectrum of functions in the domain of green ICT architect.
Government/public for industry, for the environment, for urban/territorial planning/management.
Doctoral studies
By completing the specialization and Master's project a student is trained to perform a research project and critically reflect on his/her work. So a student is well prepared to function as:
A Ph.D. student at a university, performing research like studying Network protocols, distributed systems Software development, computer design in respect to the environmental constraints.
A Ph.D. student at a large industry R&D-department, performing applied research, like the design of smart systems for supervising, controlling energy, environment, etc.
Application Requirements
Admission requirements
The Course will be open to all applicants around the world. The eligibility requirements have been recognized by all Consortium universities and are the following:
Degree:
The Master's Course is open to European and non-European excellent students having acquired a BSc in mathematics, physics, computer sciences, automatic control, and related fields.
Bachelor's degree of at least 180 ECTS in Computer Science, Computer Engineering, Automatic/ Electrical/ Electronics Engineering or Information Technology or a closely related area.
Knowledge of computer networking, programming, and operating systems is recommended.
The grade average of the previous study should prove high qualification of the applicant. This will normally be the case for a grade average of 'B' or better in terms of the ECTS grading scale.
English Language:
Applicants need to prove that they have sufficient fluency in English. A TOEFL test with at least a score of 600 paper-based/250 computer-based/95 internet-based or an Academic IELTS score of at least 6.5 overall and with 6 in writing or TOEIC score of at least 750 is required.
The Institutional TOEFL-code number of the University of Lorraine is 3368.
The proof of English proficiency is required even when the language of instruction for the previous education was English. However, for nationals of countries listed under this link the proof of language proficiency is waived.
Interview:
All pre-selected candidates will be invited to an interview by videoconference.
List of Required Documents
Along with the application form, the following documents must be provided:
Gender/Name/Email/Birthdate/Postal address/Phone.
Citizenship and country of residence.
Scanned image of your passport showing your picture.
Financing (scholarship, self-financing, etc.).
CV-Resume.
University degrees (held or currently studying) and universities where those degrees were obtained.
Academic certificates, University degree certificate/diploma in case you have finished your degree and if you are still pursuing it you should submit academic certificates corresponding to the courses you have finished and currently are undertaking. All university transcripts must be in English.
Description of the contents of the courses taken to obtain the degree of the previous point. It is of utmost importance to state any subject, experience or work related to IT areas of knowledge.
Two recommendation letters.
Employment information.
Proof of proficiency in English. TOEFL, IELTS, and TOIEC certificates are preferred.
Motivation letter, in which the applicant explains in English the reasons to study PERCCOM and how they relate to his/her career goals.
Information on multiple EM applications (if any).
NOTICE: Countries exempt from English language testing
If you are a national of one of the following countries, and your first language is not English but you have been taught and assessed in English, we will not ask you to provide evidence of an English language test.
Anguilla, Antigua, Australia, Bahamas, Barbados, Belize, Bermuda, Botswana, British Virgin Islands, Canada, Cayman Islands, Christmas Island, Cocos Islands, Cook Islands, Dominica, Falkland Islands, Fiji, Gambia, Ghana, Grenada, Guyana, Heard Island, Ireland, Jamaica, Kenya, Lesotho, Malawi, Malta, Mauritius, McDonald Island, New Zealand, Nigeria, Niue, Norfolk Islands, Papua New Guinea, Saint Kitt, Saint Lucia, Saint Vincent and the Grenadines, Sierra Leone, Singapore, South Africa, Swaziland, Tonga, Trinidad and Tobago, Turks and Caicos Islands, Uganda, United States of America, Western Samoa, Zambia, Zimbabwe
Last updated Aug 2019
About the School

Université de Lorraine is a French public university that offers to its nearly 52,000 students a full range of studies, in all fields, and in conformity to the Bologna model (bachelor/master/doctorate ... Read More
Université de Lorraine is a French public university that offers to its nearly 52,000 students a full range of studies, in all fields, and in conformity to the Bologna model (bachelor/master/doctorate).
Read less
Nancy ,
Liège ,
Luleå ,
Freiberg ,
Metz ,
Marseille ,
Prague 6 ,
Saclay ,
Leganés ,
Stuttgart ,
Ghent
+ 10 More
Less