Program Description
The master SERP+ is an English taught two-year program funded by the Erasmus + programme of the European Commission
It gathers 4 leading European research universities:
Paris-Sud University, France (coordinating institution)
Adam Mickiewicz University, Poland
University of Genoa, Italy
University of Porto, Portugal

Our goal
It aims at training experts in the most advanced experimental and theoretical tools developed in chemistry, physical-chemistry and materials science, making them ready to develop innovative ideas and enterprises related to sustainable developments in Energy, Health and Environment.
It also includes elements of Management, Business, Innovation and Valorisation, Communication and Patent law.
The international study programme includes courses, tutorials, and lab training in cutting-edge areas related to renewable energies, green chemistry, radiation effects, nanomaterials for the industry and nanomedicine. A strong partnership with SMEs, academic institutions and research and innovation centres in Europe, Asia, and Latin America, allow the students to strengthen their professional skills and build their network.
The students must complete their training with a 6-month internship in the academic sector or in the industry. An intensive summer school also fosters the students' entrepreneurial skills including economy management, communication, patent law, and technology transfer so they can face the job market.

Mobility Scheme
At the end of the master, the students are awarded a multiple diploma according to the mobility track they followed:
Master in Chemistry from Paris-Sud University
Master in Materials Science and Engineering from the University of Genoa
Master in Chemistry from the University of Porto
Master in Chemistry from Adam Mickiewicz University in Poznan

International Summer school
2 weeks in Genoa: a historical and privileged environment by the sea
Courses: European patent law, Business and economy management, Communication, Risk capital and funding, Technology of innovation, New Information and Communication Technologies, Personal professional project.

Admission criteria
Applicants should have or should be in process to get a Bachelor degree at the time of the application.

Eligible topics: Chemistry, Physical-Chemistry, Materials Science and Related topics.
Non-eligible topics: Computer Science, Electrical & Electronics Engineering, Mathematics, Food, Biology, Pharmacy, Mechanical Engineering.
Applicants with a degree from an institution where the language of instruction is not English are required to provide an official English score report (TOEFL, IELTS, Cambridge certificates). Awards and external references and other criteria will also be taken into account.
Please note that applicants already holding a master degree can be accepted in the second year of the master at Paris-Sud University.

Duration and Price
This course is campus-based
Start date: September 2020
Duration: 2 years full-time
Price: 6575€ for non-European students and 3600€ for European students (per academic year). Holders of Erasmus Mundus Scholarships are waived from paying tuition fees.

Scholarships
Deadline for Erasmus Mundus scholarships is on February 15th 2020
Self-financed students can apply until June 15th 2020.
Erasmus+: Erasmus Mundus (for 2 years)
European students: 44 150 €
Non-European students: 38 200 €
Paris-Saclay (for 2 years):
20 000 € mobility bursary (for eligible self-financed students only)
Last updated Oct 2019
About the School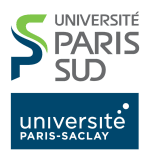 Paris-Sud University is located in the south of the Paris region. It is composed of five faculties (UFR), one engineering school (Polytech Paris-Sud) and 3 technical institutes (IUT).
Paris-Sud University is located in the south of the Paris region. It is composed of five faculties (UFR), one engineering school (Polytech Paris-Sud) and 3 technical institutes (IUT).
Read less