Program Description
AIMove Post Master's Degree is an accredited professional program, delivered by MINES ParisTech, PSL Université Paris and supported by a European consortium of IRCAM, CERTH, Goldsmiths College University of London, IDIAP and the Aristotle University of Thessaloniki. The programme specialises in Human-centred AI (HAI) and enhances professional development and expertise in the fields of human-machine interaction and collaboration, internet of things, machine learning, pattern recognition, computer vision, VR/AR and mixed reality, and emergent related fields. This unique international program, taught entirely in English, brings together leading European professionals in this field and trains future HAI specialists in Human-Machine Collaboration.
AIMove is unique as it offers students a double expertise. Graduates will be specialized both in HAI technologies and in understanding the human movement, gestures and actions as well the human behaviour in general. AIMove responds to the emerging needs of both industry and society by promoting awareness of AI and ensuring immediate employment as an AI specialist in Industry 4.0, the Factory of the Future or the Creative and Cultural Industries.
To guarantee greater correspondence between educational and market demands, AIMove partners with companies and academia. This Post-Master's Degree enables participants to acquire expertise in a rapidly-growing field, addressing a multitude of topics through courses on gesture recognition, machine learning, movement capture and analysis, human-computer interaction, collaborative and creative robotics, the IoT, etc.
After 6 months of intensive courses, graduates will be considered 'Human-centred AI specialists', capable of managing collaborative robotics projects, develop movement-based interactive systems, and designing innovative solutions for, among others, the factory of the future or the industry of autonomous vehicles. Student access to the labour market is facilitated by mandatory internships in high-tech enterprises.
Overview and Objectives
Scope and objectives
The AIMove program aims to:
Create HAI specialists, prepared to take responsibility in the industry, integrating motion capturing, machine learning and movement-based interaction.
Train project managers able to conceive, implement and take over interactive systems or intelligent workspace projects by enhancing the sensorimotor and cognitive capabilities of the user.
Promote interdisciplinary AI engagement.
Targeted competencies
AI and societal challenges
Motion capture, Modeling and Pattern recognition
User Interaction/User Experience (UI/UX)
Humans, machines and connected objects
Movement and European industrial leadership
Interdisciplinary AI engagement
Targeted industrial sectors
Creative Industries
Security and Defence
Smart Automotive Vehicles
Manufacturing
Arts, Cultural Industries and Museums
The need for AIMove
Industrial

– Addressing the challenges where Human-Centred AI can bring solutions

Networking

– Creation of a hub of professionals and experts

Skills for Jobs

– A well-rounded educational program for a professional transformation of the engineer

Academic

– Emerging pedagogical methods through R&D
Human-centred AI specialist
An AIMove graduate is a human-centred AI specialist who could pursue a career as (among others):
Deep/Machine Learning Engineer

Computer Vision Engineer

Project leader in

Collaborative Robotics

Engineer in ADAS for Autonomous Vehicles

Project leader in

Game Building and Gameplay

Concept engineer for the development of

movement-based interactive systems

Innovation manager for the

Factory of the Future

TEL Manager

in the industry

Expert industrial coach

on movement and AI

SME-founder

on movement and AI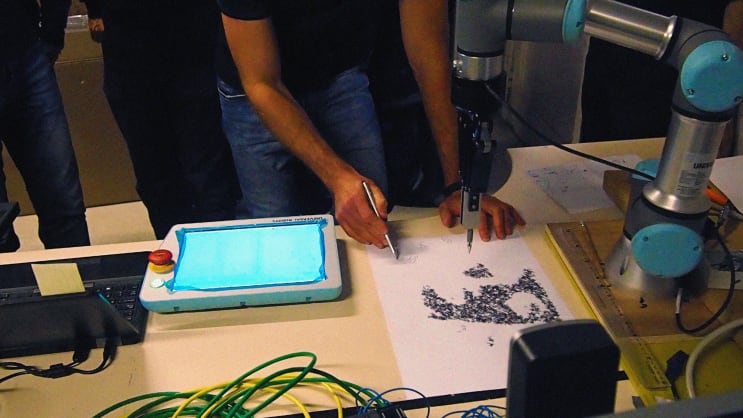 During the course of Creative Robotics
Modules and Courses
M1: AI and societal challenges
AI for movement applications in the economy and society
Anthropology of the body and sociology of interaction
Ethics and privacy by design
Perception, emotion and the aesthetics of movement
M2: Motion capture, modeling and pattern recognition
Motion capturing: Studio-based experience
Machine learning
Deep Learning for Big Data
Gesture Recognition
Statistical, geometrical and dynamic representations of movement
Computer Vision for Scene Analysis
M3: User Interaction and User Experience
Virtual and Augmented Reality
User Interaction / User Experience (UI/UX)
Human Motion Analysis in Interactive Environments
M4: Humans, machines and connected objects
Human-Robot Interaction and Collaborative Robotics
Designing Movement-Sound Interactions
Creative Robotics
Personalized healthcare and IoTs (Internet of Things)
Sensorimotor learning and vocational training
M5: Movement and European industrial leadership
Project coordination for human-centred engineering
Challenges for Cultural and Creative Industries*
Challenges for the Factory of the Future*
Challenges for Autonomous Vehicles*
*choose one among optional courses
M6: Interdisciplinary AI engagement
Think-Tank and OpenLab Days
Summer School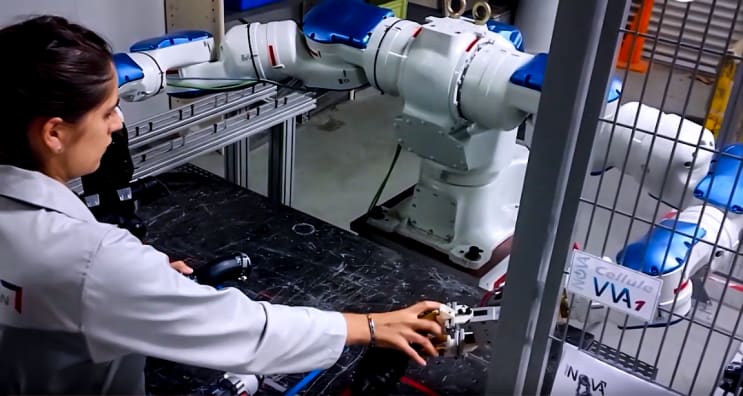 Gesture recognition for Human-Robot Collaboration in the Factory of the Future
How to apply
Application Requirements
In order to submit an application for 2020-2021 entry to AIMove, you should fulfil the requirements below:
Academic Requirements
Five-years at University level or diploma in engineering, informatics, mathematics, automation, electronics or other relevant disciplines or

Four-years at University level and three years of professional experience
English Language Requirements
AIMove is an English-medium program and all applicants must be able to provide evidence of competency in English. To meet the AIMove English language requirements you will need to have one of the acceptable language qualifications listed below:
IELTS: the minimum overall band score is 6.5. The individual score is 6.0 across the four skills in Listening, Speaking, Reading and Writing grades.
TOEFL score required: 79-93
TOEIC score required: above 680
Prepare your application
Documents to submit (in English). The application form must be accompanied by a motivation letter, two recommendation letters, your most up-to-date CV (max. 2 pages), language certificates and grade reports.
Tuition Fees
How much it will cost
Fees for applicants from EU and international students are the same. There is no application fee. The total cost for the academic year 2020-2021 is distributed as below:
800€ registration fee and 16000€ tuition fees.
For candidates supported by companies, please contact the administration of AIMove.
Last updated Mar 2020
About the School

230 years of history for the Graduate School. 1281 students, 18 research centers, 286 talented research professors, 1st school for partnership research, a unique link with companies. Values built over ... Read More
230 years of history for the Graduate School. 1281 students, 18 research centers, 286 talented research professors, 1st school for partnership research, a unique link with companies. Values built over the years, which we are proud to display, to maintain, to share. Welcome to MINES ParisTech!
Read less